SWEDISH MIDSUMMER IN ZANDVOORT – THE PREPARTY BEFORE THE FESTIVAL @ CLUB EXPOSURE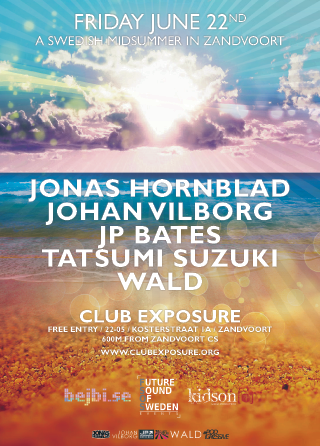 FSOS Events™ in collaboration with Bejbi.se and Kidson Media Production, invites you to a Swedish Midsummer Party in Zandvoort on June 22nd!
For 5 years consecutively people have teamed up from all over the globe for the most unique and yearly trance event at Beach Club Riche in Zandvoort, Holland for 2 days of trance and progressive and the best of it! This year the founders of Future Sound Of Sweden™, Bejbi.se and Kidson in joint forces with Trance Family Sweden got the idea to organize a get together for all of us! The PREPARTY the night BEFORE the main weekend festival and celebrate PLUR with a slight touch of the "Swedish midsummer eve". So If your in town, want to preparty then join us, we've got great music from interesting upcoming producers, a great new venue in Zandvoort with free entrance and atmosphere, loads of atmosphere! So with no further ado we present to you…
Line up:
JONAS HORNBLAD  (Alter Ego, Enhanced, EnMass)
JOHAN VILBORG  (Silk Royal, Unearthed, Dangerbox)
JP BATES  (Infrasonic, Perceptive, Captured)
TATSUMI SUZUKI  (Podgressive)
WALD
Where:
CLUB EXPOSURE  (MAP)
Kosterstraat 1A. Zandvoort, Holland.
When:
22-05, FRIDAY, JUNE 22nd
Age & Entrance:
18+ FREE ENTRANCE
NON PROFIT EVENT


This event is composed by several Swedish brands and artists from within the EDM scene, all entertainment is performed as support from the DJs as they are visitors for the festival (and we thank them for their contribution) as well as all post-production to make this evening memorrable. And also a big thank to the very kind Club Exposure for welcoming us, we hope to see all of you there on this meet up and launch for what is expected to be the trance weekend of the year 2012! :-)
FUTURE SOUND OF SWEDEN
FSOS Events
Where the crowd makes the atmosphere!